Trakehners as Performance Horses
Below, we have listed various equestrian links. We check these on almost a daily basis for up to the date equestrian news, new products, show results, services, breeding information...the list goes on and on.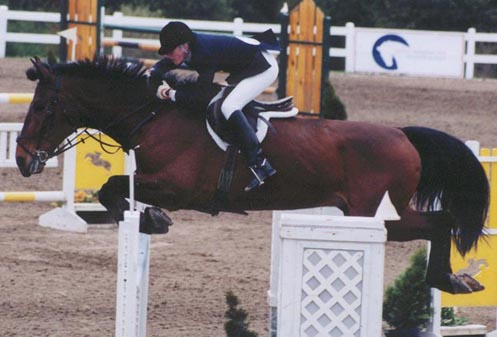 Here, Ace and I are clearing the first fence at the 2002 Caledon National Grand Prix. We placed 12th out of 23 starters!

Links of Interest:

Equestrian resources - This is a brand new Equestrian based web directory started in March 2004!

Free Horse Ads - This is site offers free classified advertising.
Search Engines
Equisearch An equine search engine - "where horse people click!". Horse sport coverage, expert advice, on line shopping and more!!
Sporthorse-online Your online resource for anything sporthorse!!

This site bills itself as being the ultimate source of equine information. Check it out!!

Favourite Sites
www.equiman.com This site has up to date results on horse shows in Ontario. It is also possible to enter a horse or rider's name to find individual show results.
www.equinecanada.ca This is the web site of the Canadian Equestrian Federation (CEF). It is the governing body of equestrian sport in Canada, recognized as such by the Canadian Olympic Association (COA) and the International Equestrian Federation (FEI). It is responsible for encouraging equestrian activity and providing standards for competition.
www.americantrakehner.com This site provides a history of the Trakehner breed, list of approved stallions, Trakehners for sale, etc.
www.equestrian-toplinks.com/ A web site listing equestrian web sites from around the world!
www.KWPNimports.com
Sells Top-Quality WBs, all ages, levels & disciplines with horses in US and Holland. Contact FRANCOIS REESINK

www.themanestreet.com This site is based in British Columbia - great forums, message board, classified and more!!
www.trentriders.com A new site featuring classifieds, stallion and stable directory in our area!
www.equinepost.com An online community for horses and their people!

Horses for Sale at NetEquine.com