Sponsorship
Big V Farm prides itself in being a family oriented business, training premium Canadian performance horses to succeed on the national circuit.
Kati's major successes include:
Jump Canada Bursary Award winner
Member of the elite Young Rider Team
Medalled both times she has represented Canada in international competition
In the ribbons at the prestigious Royal Winter Fair in Toronto
One of only two riders in Canada to be invited to compete in the Marshall and Sterling Indoor Finals in the US
Big V Farm has had numerous local sponsors in the past including - D&D Cutting and Coring, Equine Indulgence, Greenhawk, King Equine Services, Kittling Ridge Estate Wines, and The Horsemans Shop.
The local print media has been very supportive in reporting our successes. Many thanks to: Niagara Farmers Monthly, Niagara This Week, Port Colborne Leader, St. Catharines Standard, The Rider, Welland Tribune and Wainfleet Crier.
Ivan and his family welcomes the opportunity to enter into a sponsorship relationship with companies or individuals. Please contact us for more details.
Pictured below - Ace and Kati in their first World Cup Qualifier/Equestrian Games Trial.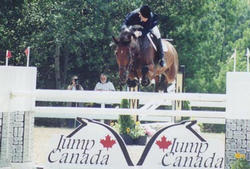 Investment

We have several young horses that have the potential to reach the elite Grand Prix level.
Show jumping is an exciting spectator sport. Invest in the future and be part of the excitement!
Interested investors - please contact us at 905-899-2226 or vrbicek@sympatico.ca